- The 2018 Northern Gathering is upon us! Get ready for a high time in the Lord with Presiding Bishop Rodney S. Canion and churches from all over the country! See the itinerary for any last minute information you may need.
Northern Gathering Headquarters: The New Gospel Temple 1556-1554 Minford Place Bronx, NY 10460
Hotel: Hilton Garden Inn Ridgefield Park 70 Challenger Road
Ridgefield Park, NJ 07660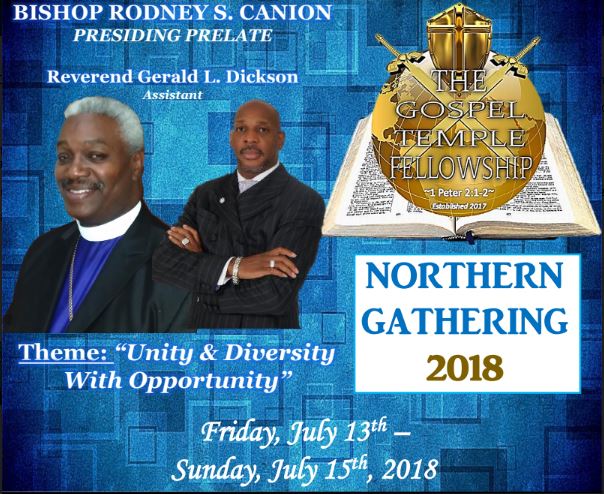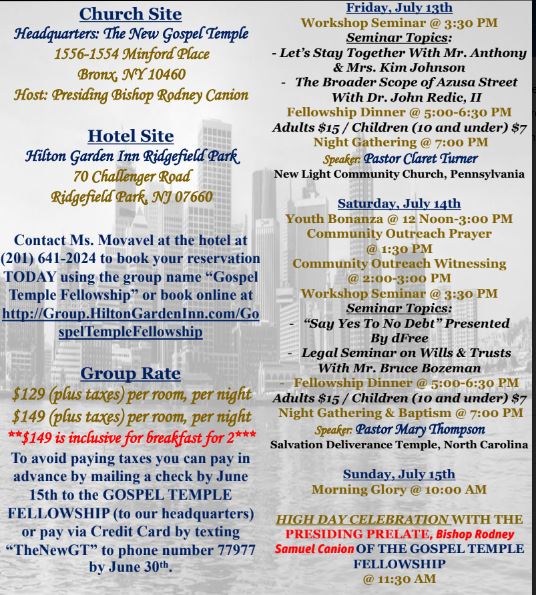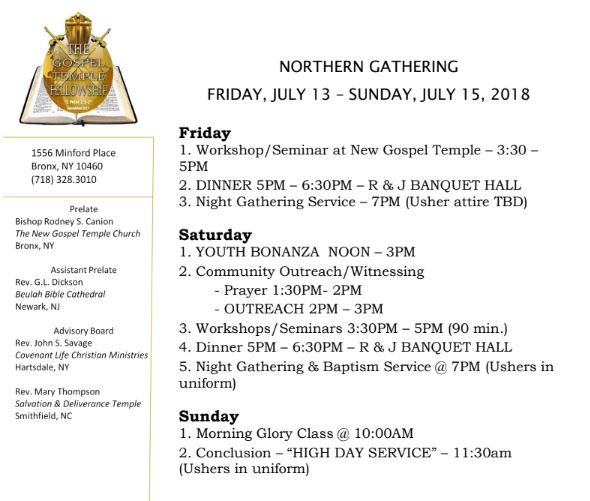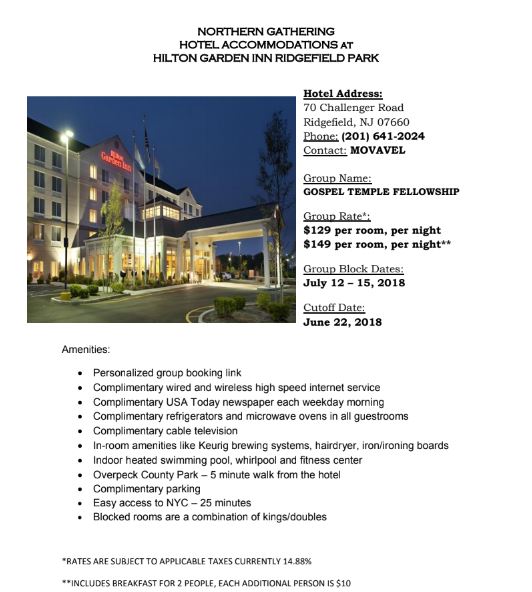 - On Saturday, July 21st, we will be going to Eddy Farms for Baptism. Please let First Lady know no later than July 15 if you wish to be baptized.

- On Sunday, July 22, B.A.A. will be hosting CLCM's annual Family and Friend's Day. Join us for an afternoon filled with food, fun, and fellowship! RSVP by July 15 to First Lady.
Location: Secor Woods Park Hartsdale, NY 10530.
-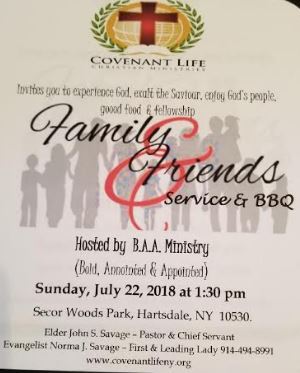 - Sunday School is held every Sunday from 12:00-12:45pm. All are welcome so please come out and join us!

- Bible study is held every Wednesday at 7:30 on the Prayer Line. Please contact them for more details. Phone Number: 712-433-3900. Passcode: 377816
- The Women's Prayer Line is on Mondays at 8pm. Phone Number: 712-433-3900. Passcode: 377816

- The Men's Prayer Line is on Tuesdays at 7pm. Phone Number: 712-432-3900. Passcode: 377816

- Child Dedications are performed on the second Sunday of the month and arrangements should be made by contacting First Lady.

- All those interested in the Liturgical Dance Ministry should contact Sis. Taylor.

- Please keep our sick, shut-in, and bereaved families in your prayers. If you haven't seen someone in a while, give them a call.

- Parking is available at the Shopping Center ONLY in front of the Walgreen's Pharmacy drive-thru window. You must have a sign in your windshield, which are available from the usher. We suggest that you keep one in your glove compartment in case you need to park at the Shopping Center. Parking is at your own risk and CLCM assumes no liability therefor.

- Weekly announcements should be received no later than Friday. Send all emails regarding announcements to either Pastor.