-From Friday, June 1 - Sunday, June 3, New Dimensions Apostleship Assembly will be holding a Prophetic Development workshop. The prophetic anointing and teaching promise to be high! Dr. Sharon Billins is traveling from Georgia and she is a powerhouse all by herself! Please click here to register.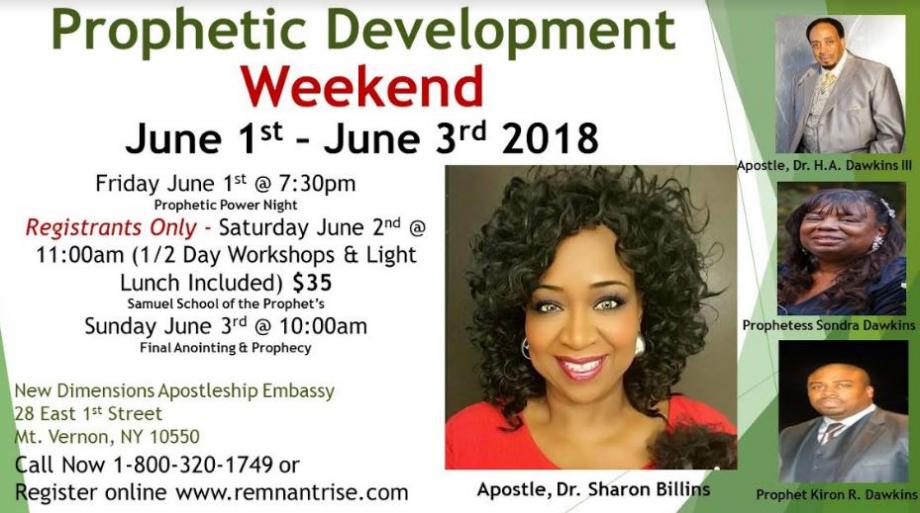 - From Wednesday, June 20 - Saturday, June 23, New Era Apostleship Restitution will beholding their annual Tulsa Prophetic Training Institute. Get ready for 4 powerful days of prophetic training, impartation and equipping for prophets and prophetic types, hosted by Dr. Paula Price, author of The Prophets Dictionary and TV host of Taking it On with Paula Price. Ticket prices are below, please click here for more information.
Location: Southern Hills Crowne Plaza 7902 South Lewis Avenue Tulsa, OK 74136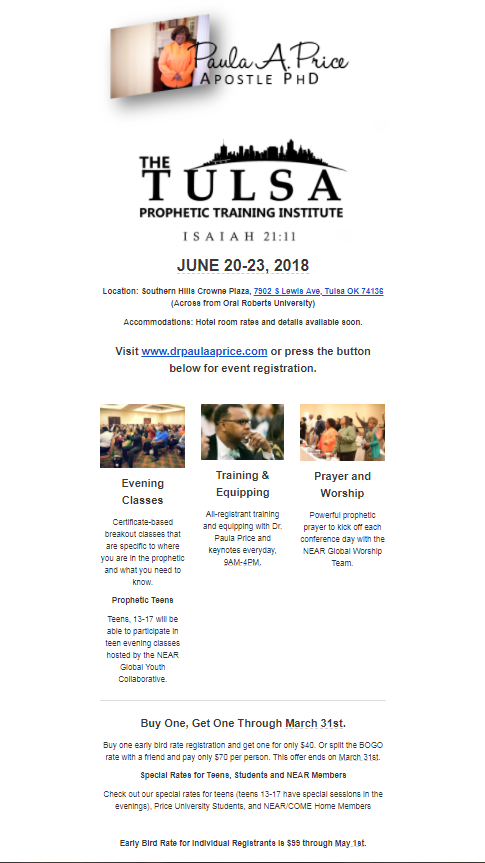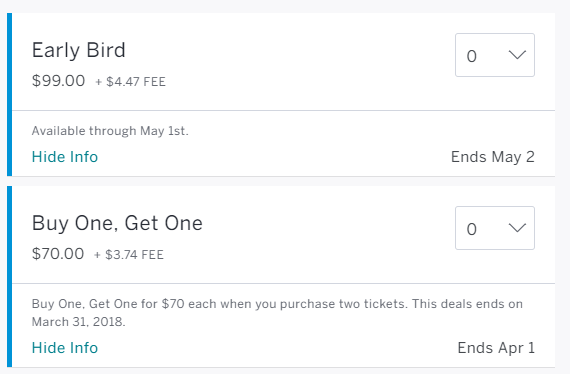 - Sunday School is held every Sunday from 12:00-12:45pm. All are welcome so please come out and join us!

- Bible study is held every Wednesday at 7:30 on the Prayer Line. Please contact them for more details. Phone Number: 712-433-3900. Passcode: 377816
- The Women's Prayer Line is on Mondays at 8pm. Phone Number: 712-433-3900. Passcode: 377816

- The Men's Prayer Line is on Tuesdays at 7pm. Phone Number: 712-432-3900. Passcode: 377816

- Child Dedications are performed on the second Sunday of the month and arrangements should be made by contacting First Lady.

- All those interested in the Liturgical Dance Ministry should contact Sis. Taylor.

- Please keep our sick, shut-in, and bereaved families in your prayers. If you haven't seen someone in a while, give them a call.

- Parking is available at the Shopping Center ONLY in front of the Walgreen's Pharmacy drive-thru window. You must have a sign in your windshield, which are available from the usher. We suggest that you keep one in your glove compartment in case you need to park at the Shopping Center. Parking is at your own risk and CLCM assumes no liability therefor.

- Weekly announcements should be received no later than Friday. Send all emails regarding announcements to either Pastor or Sis. Terri James (jnoni1958@aol.com).